Scooters Garantie
En raison de la nature inhérente du sport, la plupart des distributeurs et de leurs fabricants l'industrie du freestyle scooters ont des garanties limitées qui couvrent les défauts ou les défaillances de fabrication directs dans leurs produits. Comme dans tous les sports extrêmes, le matériel de scooter subit un dommage résultant directement de la participation dans le sport. De tels dommages à l'équipement ne sont pas couverts par la garantie.
Conformément à la CHARTE DE SERVICE À LA CLIENTÈLE ​​Metrikx, notre objectif est de traiter votre demande de garantie aussi rapidement et efficacement que possible. Avant de procéder à votre demande de garantie s'il vous plaît noter les lignes directrices suivantes en ce qui concerne les garanties du fabricant:
GARANTIE DU FABRICANT ne couvrira qu'un DÉFAUT DANS LE PROCESSUS DE FABRICATION.
IL NE COUVRE pas les dommages causés par les IMPACTS SUR LE SCOOTER.
Toute garantie est nulle sur les articles qui montrent une mauvaise utilisation ou les dommages causés ou liés à une mauvaise technique de conduite inappropriée.
La plupart des fabricants seront également ne pas couvrir les réclamations de garantie sur les éléments qui montrent une usure excessive ou évidente directement ou indirectement lié à la réclamation.
Toute modification à un produit annulera la garantie des distributeurs pour la partie individuelle, ainsi que toutes les pièces associées.
Une garantie est approuvé seulement si le bris ou le mauvais fonctionnement du scooter est un résultat direct de UN VICE DANS LA FABRICATION DU PRODUIT.
Aucune garantie sur les grip tapes.
Dommages, bris, fissures ou accrochage du produit à la suite a de l'abus ou impact Majeure. NE SERA PAS COUVERTS PAR LA GARANTIE!
Mes roues ont décollé (dehub)
IL y a deux sortes de dehub. Une roue qui a vraiment subit un dehub n'aura aucune marque de plastique sur le contour du corps de la roue ni de traces d'impact sur le rebord de métal (voir photo). Un dehub est un problème de manufacture ou la gomme de la roue n'a pas bien collé sur le contour de métal . Si votre roue dehub a cause d'un défaut de compagnie, la gomme de la roue va juste glisser sur le contour de métal (voir photo).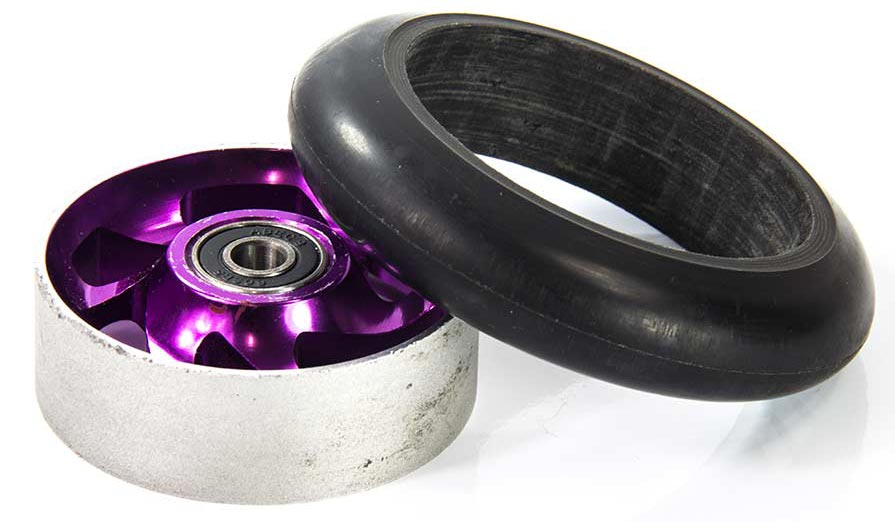 Une roue qui aura la gomme arrachée (souvent pris par accident pour un dehub) sera du aux coups latérals que subi la roue de la trotinette en faisant des 'tricks' . Par exemple, les 'Briflip' sont la cause la plus courante de bris sur les roues. Si vous arrachez un morceau de la gomme de la roue a cause d'un impact, nous classifions ce bris sous 'bris d'utilisation' et ne sera pas éligible a la garantie du manifacturier. Les roues sont des pièces qui s'usent a la longue et qui ont besoin d'etre changées après un certain temps comme des roues d'auto.
Merci de votre compréhension!
My griptape fell off
Make sure your grip tape is pressed all the way down around the scooter before you go on your first run. If you don't do this then the griptape can peel and fall off. Also using griptape in the wet will dramatically reduce the life span causing the grip to fall off or wear thin.
To make your grip last longer avoid mud and water! Grip tape is a cheap wareable part.
Si vous êtes encore incertain ou vous avez un véritable problème qui sonne comme un défaut de fabrication s'il vous plaît entrer en contact avec nous info@metrikx.ca